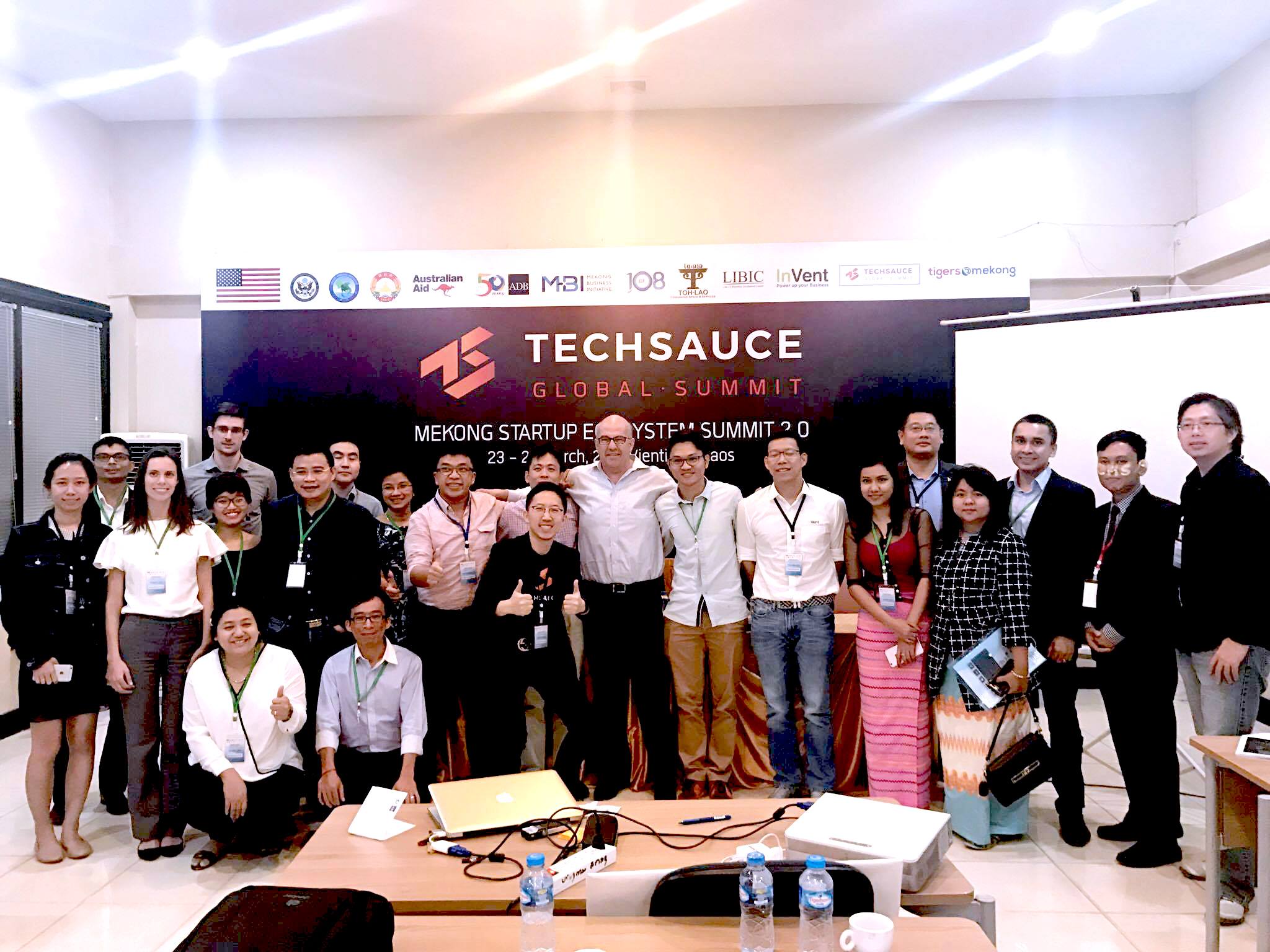 Techsauce Global Summit roadshow x Mekhong Startup Ecosystem Summit 2.0 on March 23-25, 2017
Myanmar startup Technoholic - a local start-up and tech solutions provider - has won a place in the final pitching contest at Techsauce Global Summit 2017.
Near the end of March 2017, Techsauce Global Summit roadshow collaborated with Mekhong Startup Ecosystem Summit 2.0 to find a winner from the four CLMV countries to bring back to our final stage to pitch at the grand finale at Bangkok's Centara Grand Convention Centre on July 28-29, 2017.
Technoholic - co-founded by the same gals who created freelancing platform Chatesat in Myanmar - stole the show, whereas the runners up were Bookmebus.com (Cambodia), DesignBold (Vietnam), & Book Delivery (Laos).
Amarit Chareonphan, co-founder of Techsauce and co-founder and CEO of HUBBA Thailand, moderated the panel titled, "How to scale up to Southeast Asia? Different perspectives on challenges of Asian markets." From his observations during the summit, Khun Amarit stated that challenges do remain for the startup ecosystem in the Lower Mekhong, and are quite the same - such as regulatory hurdles, education and talent.
Additionally, CLMV markets face unique challenges like infrastructure, market readiness and IT literacy. Yet overall, CLMV startups are on the rise and Khun Amarit praised their abilities. "Some even pitch better than startups in more developed markets," he noted.
Khun Nopphorn Danchainam (Digio), Khun Ukrit Visitkitjakarn (Apptividia and Bookkaze) and Mr. Jeff Hoffman (Co-Founder, Priceline), featured in the panel.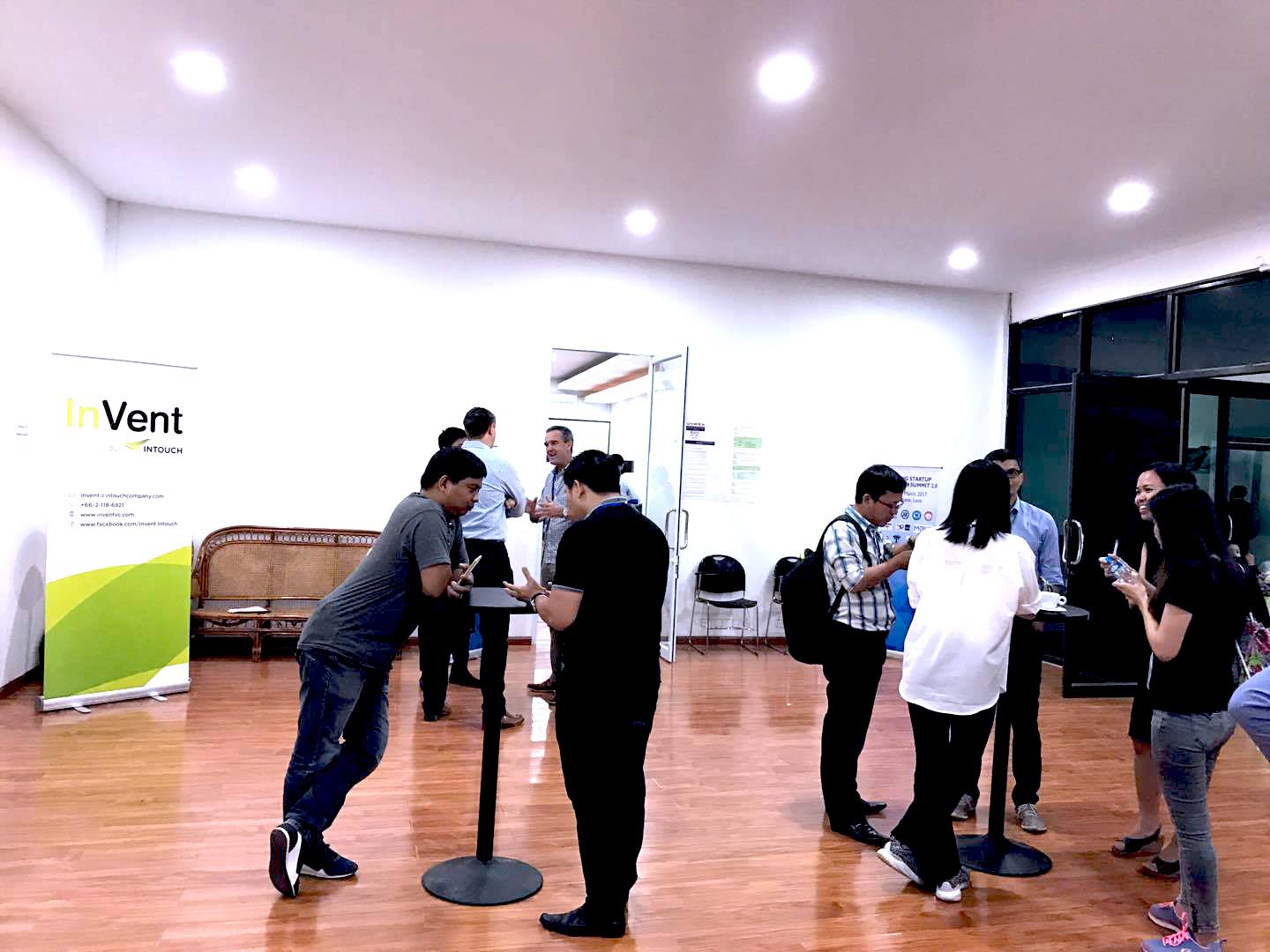 Thai VC InVent sponsored an evening networking event at LNCCI
It was followed by a networking event co-hosted by Thai VC InVent at the Lao National Chamber of Commerce and Industry (LNCCI). The event concluded on the final day with the Techsauce Roadshow Final Pitch & announcement of the winner.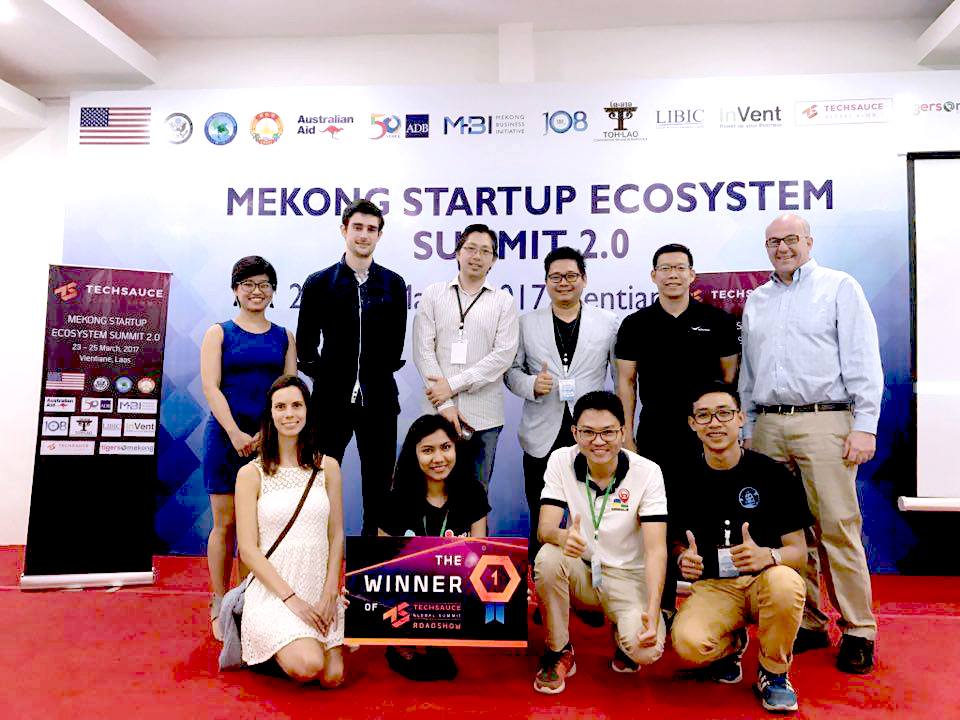 Technoholic takes first place
The Winner - Technoholic, Myanmar Back in September 2016, Technoholic was featured on E27's blog as one of the first six startups accepted into Myanmar's first-ever accelerator program hosted by Yangon incubation lab Phandeeyar. It was founded by the same two gals who created Chatesat.com, a platform which connects businesses with freelancers and has been compared to Thailand's fastwork.co which was the very first freelancer marketplace in Myanmar.
Formed by two sisters/geek girls, one of whom worked as a freelancer for many years, and one of whom is also the co-founder of www.geekgirlsmyanmar.com, Technoholic is based out of Yangon. The team strives to deliver highly innovative application and website developments to enhance their clients' business efficiency and give them a competitive edge amidst today's technology challenges.
"We facilitate many small and medium enterprises as an IT consultant to meet their end-to-end business goals with competent planning and execution," states the Facebook page for Technoholic. "Some see a problem, we see a solution."
As with all the winners from each country at Techsauce Global Summit roadshows, Technoholic won two plane tickets to BKK in July, accommodation, a free booth in our summit and a place to pitch before top accelerators & world-class investors in the grand finale at Techsauce Global Summit 2017. Congrats, Technoholic!' Runner up no. 1 - Bookmebus.com, Cambodia
Bookmebus.com provides travelers planning their trip across Cambodia, Laos, Vietnam or Thailand with a full list of buses, boats and private taxi departure schedules that backpackers and adventurers can avail themselves of.
The company is one of the most successful start-ups in Cambodia, and has been featured in several conferences and online articles. Its main focus is offering online ticketing for bus travelers in Cambodia. Read more about Bookmebus.com and its vision here.
Runner up no. 2 - Designbold.com, Vietnam
Founded in 2015, DesignBold is a young Vietnamese design startup which has already stolen three awards in 2016, winning the Startup of the Year award at the 2016 Vietnam Startup Festival at the end of December 2016, as well as placing as the winner at the 2016 Creative Business Cup Vietnam and Echelon Vietnam 2016.
The startup's business model allows professional designers to contribute and make money via an "online studio" and is said to offer more flexibility even than famed graphic design software Canva. It is also famed for earning over $27,000 USD over the first three days of its beta phase launch.
Runner up no. 3 - Book Delivery, Laos
Book Delivery
, which celebrated its first-year anniversary back in January 2017, delivers books within Vientiane on the same day and also functions as a platform for local writers to sell their books. The startup is based out of Vientiane, and you can find out more about them on
their Facebook page
.
All three Mekhong runners-ups, Bookmebus.com, DesignBold, & Book Delivery have also received two free passes to Techsauce Global Summit 2017 in Bangkok this July - and so will all other runners up at our upcoming roadshows in Singapore (April 21), Indonesia (May 12), Malaysia (May 19) and Hong Kong (June 15). Startups in these locations - don't miss the chance to join!
_______________
Techsauce Global Summit 2017 is the melting pot for global and regional leaders in technology, venture capital, corporations and startups. Heralded by many as the "freshest and edgiest" tech conference in Southeast Asia, this is Southeast Asia's must-attend conference for technology entrepreneurs from Southeast Asia who wish to propel themselves onto the global stage and global investors who wish to identify the region's leading startups.
As Southeast Asia's first global-scale conference, it will assemble more than 6,000 participants in Bangkok on July 28-29 including 1,000+ startups, 200+ venture capitalists, angel investors and corporates, and 200+ journalists from global media outlets for this year's ultimate gathering at Centara Grand Convention Centre in Bangkok, Thailand. The Summit facilitates an opportunity open up to Asia and the rest of the globe with top VCs and corporations such as 500 Startups, Y Combinator, Techstars, Life.Sreda VC, Facebook, Samsung, HP, Dentsu Inc., EY and Idea Tokyo.
See a full list of speakers and full info here: http://summit.techsauce.co
Book your tickets today & save - price goes up every month, so book now for the cheapest price: http://ow.ly/yfr3309Xnb5
To reserve spacing for booths, contact us at [email protected]
CHECK OUT OUR UPCOMING ROADSHOWS!
Singapore, 04.21.17 at Working Capitol Robinson Road: https://www.facebook.com/events/1290584570978601/
Jakarta, 05.12.17 at Freeware Working Space Group: https://www.facebook.com/events/139778179885444/
Kuala Lumpur, 05.19.17 at Common Ground: https://web.facebook.com/events/1852435671640746/
Hong Kong, 06.15.17 at We Work Wan Chai: https://www.facebook.com/events/1465552063475694/