What exactly is innovation? Is it about creating a new product? Does innovation mean creativity? Is innovation something we can create? It's funny how there are thousands of books out there on business model canvas and innovation frameworks, but when we asked the senior leaders of corporates to define "innovation", everyone gave completely different answers.
Innovation is not a thing someone can build, but it is an outcome or the so-called 'end result' of doing some really cool stuff within an organization. - Cris Beswick, an innovation strategist and the author of the best-selling "Building a Culture of Innovation".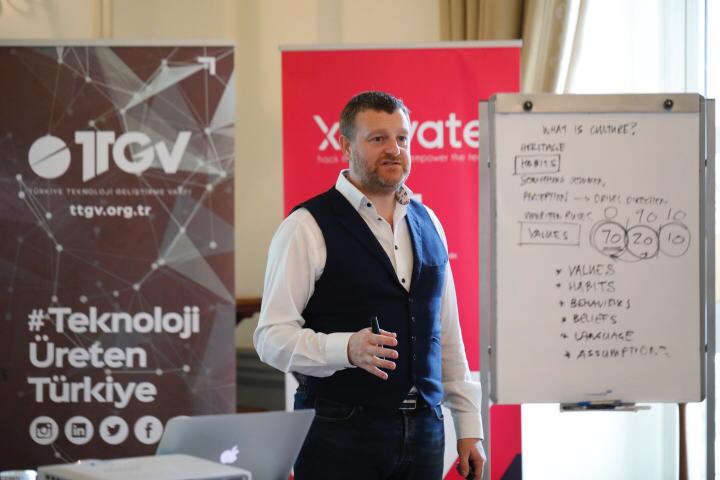 Over the past 14 years, Cris has been working closely with CEOs and senior leaders of big corporates in building innovation strategies and embedding innovation culture within the organizations. Recently, I just spoke to Cris in an interview discussing his approach in consulting the senior leaders, the key measuring metrics of innovation, and the factors that are hindering innovation at the workplace.
What is the biggest challenge of corporate innovation? How is it different between the US/European market and the Asian market?
Despite each region having its own challenges, the fundamental biggest challenge in driving innovation globally is still the lack of leadership capabilities across organizations. Most leaders have been in leadership development courses and senior management training for most of the years at work. They've probably been to business schools around the world to make them good leaders. The challenge is it was making them good leaders of the ecosystem we had 10-20 years ago, which was much more linear and predictable compared to now. The ecosystem that we now operate in demands a huge amount of creativity and adaptability. What we wanted from leaders back then was different from what we need from leaders now. Most of the leadership team hasn't been taught how to lead for the world that we found ourselves in: they don't have the right skills, capability, behavior, mindset for it.
The core things that we work with senior leadership teams are to help them understand:
1) How to build innovation strategies and then specifically align innovation strategies to the corporates.
2) How to lead for innovation with the leadership style that innovation requires as opposed to just generic good leadership.
3) How to scale innovation capability and build an innovation culture.
The main difference between the western and eastern markets is their focus on technology. Depending on the maturity of the technology in a particular market, each country has a different approach towards leadership. On top of that, the more hierarchy an organization has, the more difficult it is to cultivate the culture of innovation. That's also the reason why the Asian market is behind when it comes to innovation.
What are some common mistakes people make when it comes to understanding innovation?
You can't build a culture of innovation. Innovation is not a thing, but it is an outcome/end result of lots of cool stuff we have to do inside an organization. What we're trying to do is find problems and opportunities: find out what customers want next, what they need, and what they're struggling with. Then, through creativity, design, empathy, lean, Agile, and all the tools we have at disposal, we try to solve these problems.
At the same time, there are thousands of books about innovation available in the market. What our customers, senior leaders, and CEOs are saying to us is we don't need another book that tries to convince us that we need innovation, because we already know that. We also don't really need another book on the tools and frameworks for innovation. We can get access to books on business model canvas, design thinking, or lean startup as the tools and methodologies are all there.
The big challenge is how we do all that. We know that we need to drive innovation but how? We know how we can use these tools, but how? Fundamentally, it comes down to how we lead organizations where all our people are willing to help us collaboratively drive innovation and do the things required to drive innovation - that's about culture, how the organization operates on a daily basis.
What are some first-step actions a big corporate should take in order to be more innovative?Before taking any action, I'd suggest organizations to take innovation maturity assessment in order to clearly understand where they are in terms of innovation. If you look at the global survey around the world, around 78% of senior leaders think that they already have the right culture in place for creativity, experimentation, and innovation. However, only 37% of employees agree. We have huge polarization between how ready the organization is for innovation and how ready the senior teams think the organization is for innovation. The leadership challenge is to close that gap. Just like the GPS, without knowing where your starting point is, it is unable to plot the route towards the destination you want to go to. Hence, you need to know exactly where you are today to get to be where you want to be tomorrow.
Could you briefly tell us more about the 6 stages framework that you came up with in your latest book?
This framework does not necessarily have to be followed consecutively, although if you do, it's just a simple roadmap for senior leaders to follow. What we do here is basically to help break down how to build innovation as a capability into 6 core components:
Kick off with why

: We start off with helping organizations understand where they are today, where they want to get to and then start to build a picture of what the journey is going to look like. This sets the framework for the rest of the following stages.

Ensemble the right team

: This is about building an innovation leadership team, the group of internal people who are passionate about driving the organization forward through innovation.

Agree the future

: Time to align the senior team and the group of internal innovation champions around that future vision. That's about designing how the organization looks, feels, and operates on a daily basis if innovation is going to be a core component of how the organization works. We talk about how we build a framework for the innovation team that we might want to use, whether it is design thinking or jobs to be done. 

Engaging conversation

: Only at this point is when the organization is really ready to innovate. We've got the strategy right, the leadership team ready, and all the tools and frameworks in place. Most transformation programs around innovation failed because they too quickly jumped to this stage.

Create the roadmap

: Many organizations have overlooked the importance of including HR on the innovation journey. At this stage, organizations will shift a lot of the focus to HR and determine the role of HR in catalyzing the innovation process.

Make it happen

: The last component is about embedding that culture over time and making it stick, which is almost like the lean approach to building innovation capability. This is about how we measure innovation and continuously adapt that innovation strategy.
How do you measure success for innovation?
That's where organizations really fall down. Of course, we want organizations to measure value in terms of growth, a new product created, revenue growth and profitability, but we can't just lump all the things the organizations are already doing with innovation.
To help you understand better, here's an example: Consider the existing organization trajectory. We are turning over US$ 5 billion at the moment, over the next 2-3 years we expect to grow to US$ 6 billion – that's a growth of US$ 1 billion. But, we aspire to be US$ 10 billion. So, we now have an innovation growth gap of US$ 4 billion, because that's how much the organization wants to grow and that is what we want to measure against. The innovation of completely doing things the new way needs to deliver this extra revenue. Labeling that and separating that from core existing growth is the beginning of measuring innovation more accurately.
Again, we don't want to silo innovation. Traditionally, innovation is considered all about new product creation and R&D. But, innovation is not just about product, and organizations need to measure the much wider range of areas that innovation can help drive. An example of innovation challenges organizations are facing now and will face even more in the next 5 years is war for talent.
Speaking of war on talent, it's about how organizations retain great talent and attract a new generation of talent at the same time. This then comes a different key measuring metric to product innovation. If you're an HR director, innovation for you is about being able to use innovation as a catalyst for building a type of organization that people want to work for. Your metric is not going to be revenue growth or how many patents of the new product being created but rather, employee engagement score and staff turnover rate. In order for the HR department to perform outstandingly, the organization has to be purpose-driven. The young generation wants a company with strong values of empathy, collaboration, creativity, and experimentation.
What's the most important quality of an innovative leader?
For me, the fundamental thing is empathy. It's a quality and mindset that is used everywhere. Leaders try their best to understand their customers so well, but they don't do that well enough for their own people and employees. Using innovation as the core driver, to understand empathy means to understand the values, motivators, and drivers, then using those to build the culture that yields innovation. Having said that, empathy is one of the things we spend a huge amount of time working with senior leaders. If you want to see more evidence to this, the TV series "Undercover Boss" is a perfect example to start with.